Collaborative Specialization in International Development Studies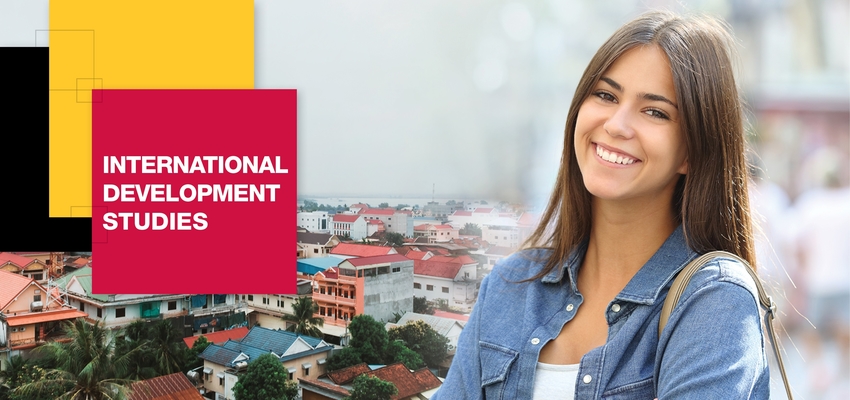 Find innovative solutions to global challenges
---
Make the most of your selected graduate program by adding a specialization in International Development. This collaborative specialization provides a focal point for your studies, enabling you to explore your area of research through an international development lens.
---
How does the International Development specialization work?
Students enter the International Development Studies (IDS) specialization by applying directly to a collaborating department and program at the University of Guelph. The IDS specialization is available as part of a master's or PhD program.
Sample of Collaborating programs:
Capacity Development and Extension
Economics
Engineering
English
Environmental Science
Epidemiology
Family Relations and Applied Nutrition
Food, Agricultural and Resource Economics
Geography
History
Latin American and Caribbean Studies
Marketing
Philosophy
Plant Agriculture
Political Science
Psychology
Public Health
Public Issues Anthropology
Rural Planning and Development
Sociology
Interested in another department? Contact us at ids@uoguelph.ca.
---
You must meet the specific admission requirements of your selected collaborating department.
University of Guelph general admission requirements.
If English is not your first language, you will be required to submit the results of a standardized language test.
International Development Studies Requirements
It is recommended that master's program applicants have completed:
one undergraduate course in economics (preferably micro-economics)
one other undergraduate course in a social science discipline (Geography, Sociology, Anthropology, Political Science or International Development)
one course in social science research methods (qualitative or quantitative)
PhD program applicants should have a strong background in the social sciences, experience in development research and/or development practice, and stated research interests relating to international development.
The University of Guelph offers many resources to financially support graduate students. Explore your options on the Graduate Studies website.
Help fund your graduate studies by taking advantage of Entrance Awards related to International Development Studies.
New full-time doctoral students who are accepted at the University of Guelph are guaranteed funding. Stipends for master's students are offered at the discretion of the home department.
---
Take the next step
Start the application process and explore options for funding your education.