IDS Areas of Emphasis
As a student in the IDS major, you must select one of five areas of emphasis (AoE) as part of your program. Your area of emphasis allows you to customize your degree with a unique set of curated courses in which you will use and enhance the academic knowledge and practical skills learned in your IDS core courses.
The five areas of emphasis in the IDS major are:
Agriculture and Food Security (AFS)

Environment and Sustainable Development (ESD)

Development in the Canadian Context (DCC)

Development in Fragile Contexts (DFC)

Gender and Inclusive Development (GAID)
Each area of emphasis requires the successful completion of 2.50 credits:
1.00 required credits + 1.50 credits selected from a list of restricted electives.  
Course requirements for the IDS areas of emphasis are found in the academic calendar below the IDS major core requirements.
When to declare your Area of Emphasis
You should review the areas of emphasis during your first year, and start thinking which AoE most closely connects to your academic and personal interests. The majority of AoE courses your 2000-level (2nd year) or higher, and you can start taking courses in your second year. It's highly recommended that you declare your AoE in your second year.
Can you change your Area of Emphasis?
Yes, it's possible to change to Area of Emphasis after you've declared one. For example, you initially declared GAID in first year but then decided you are more interested in environmental issues and would like to change your area of emphasis to ESD. Please keep in mind that if you change your Area of Emphasis, it may take longer to complete your IDS Major requirements so careful planning is important. 
How to declare your Area of Emphasis
To declare your area of emphasis, you must complete an online form that is approved by the BA Counselling Office.
The form is found on the Registrarial Services website here.
Scroll down to "Forms for Undergraduate Students Only" and click on "Undergraduate Schedule of Studies Change Request form"
Tips for filling in the form: 
Degree program

 is Bachelor of Arts

Program type

 is Honours  

Under "What kind of change(s) would you like to make? Specializations refer to Majors, Minors, Areas of Emphasis or Areas of Concentration" check off "I want to add/declare a new specialization" 
Under Type: use the drop-down box and click on "Area of Emphasis"
Under Subject: Write in the name or acronym of the Area of Emphasis you'd like to add (see list above)
Under Calendar Year: enter your current calendar year. This can found in your Student Planning Tool account and is typically the year that you started your studies at the University of Guelph. For example, if you started at U of G in F22, your calendar year would be 22/23.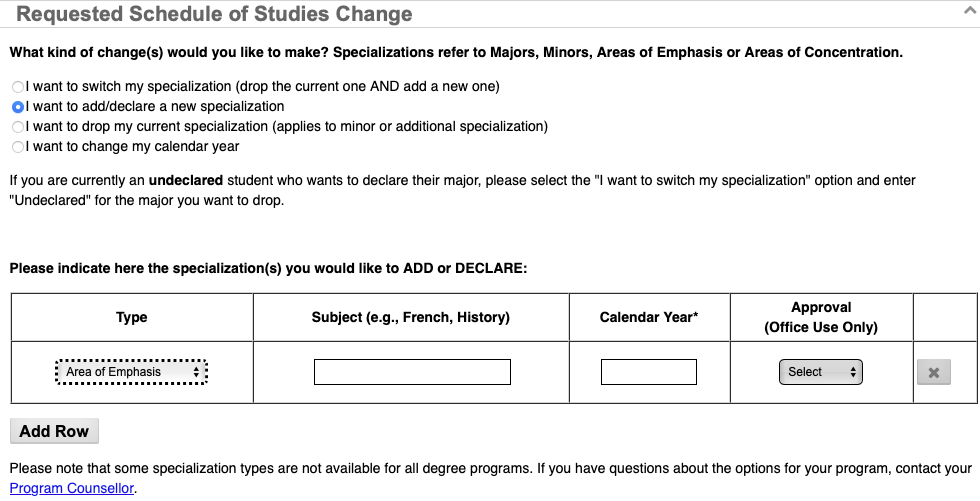 Questions about the Areas of Emphasis? Contact the IDS Academic Advisor.
---